Our in-house fashion designer and critic Aniket Satam decodes celeb style statements of the week. Some impress, some depress and some are plain disasters!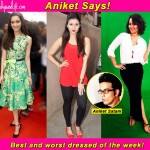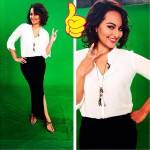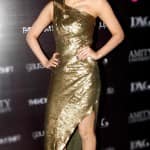 Read on what he says…
Barbie Handa aka Mannara : With a name like that you can't help and draw similarities with your namesake plastic icon.The match-up is plain patchy and the bright mouth just makes it worse.The slouchy top with those Gym leggings, off Hill road street shops makes the look more tacky and who wears two different styles of cuff in both the hands firstly. Tackastic!
Shraddha Kapoor : How stunning does Ms Kapoor look in this elegant floral 50s style dress.Old school sash belt dress with painterly print can be extremely tricky but Shraddha with her evergreen (Pun intended) girl-next-door charm makes this classic American style work.With that print so loud, minimal accessories route compliments the entire impact of the casual yet formal dressing.
Sonakshi Sinha : After last weeks misses, Sona bounces back in her stylist best in this classic monochrome number.The fitted pencil skirt with button white shirt works stunningly with those curled short hair.Laid back pendant chain and strappy sandals complete this look with a fun quotient. She looks radiating and stunning.
Ranveer Singh: That perfect pastel suit combination is just murdered with an odd maroon bowler hat. A sassy beret in grey or classic beige fedora would have added to this look but this weird-colored funny hat just ruined the entire effort of dressing up. An all bald appearance would add to the quirkier appeal to Mr Funny Bone.
Shruti Haasan: Worst thing can happen to any couture gown is an awkward pose which kills the soul of any well crafted design. That leg formation and hands on hips makes one look funny.
So you agree with Aniket's judgement? Tell us in the comments section below!