The Action Jackson babe has been promoting her recently released film religiously and looks like she's in her 'action' element indeed. Read on to know more!
Sonakshi Sinha's film Action Jackson starring Ajay Devgn has finally hit the theatres. The leading lady has been promoting the same whole heartedly, in stylish and chic avatars. While we have been singing songs in Sona's favour regarding her recent style statements, the action poses pulled off by her every now and then have caught our attention.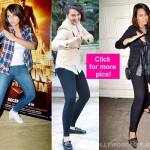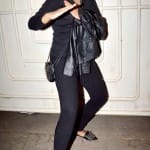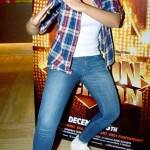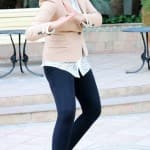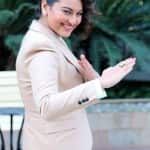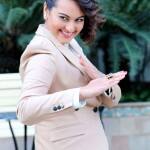 The beauty was spotted at the screening of her action flick, in all black. The actress teamed her outfit with matching moccasins and a sling bag.We caught Sona giving the shutterbugs her action pose, which seems to have become a signature style one for the babe. Sona has been spotted pulling off the same stint for many promotional events as well.
A signature style pose, seems to have become a trend with the B-town celebs. If you notice, each star has that one pose, they are comfortable sporting in front of the camera. For example, Deepika Padukone has the overdone pouting pose,Ranveer Singh has his eccentric and quirky ones, followed by Arjun Kapoor who is often seen sporting the the laid back and lazy look for the clicking clan.
Well looks like Sona has joined the list with her action pose! Who's next? Let us wait and watch.